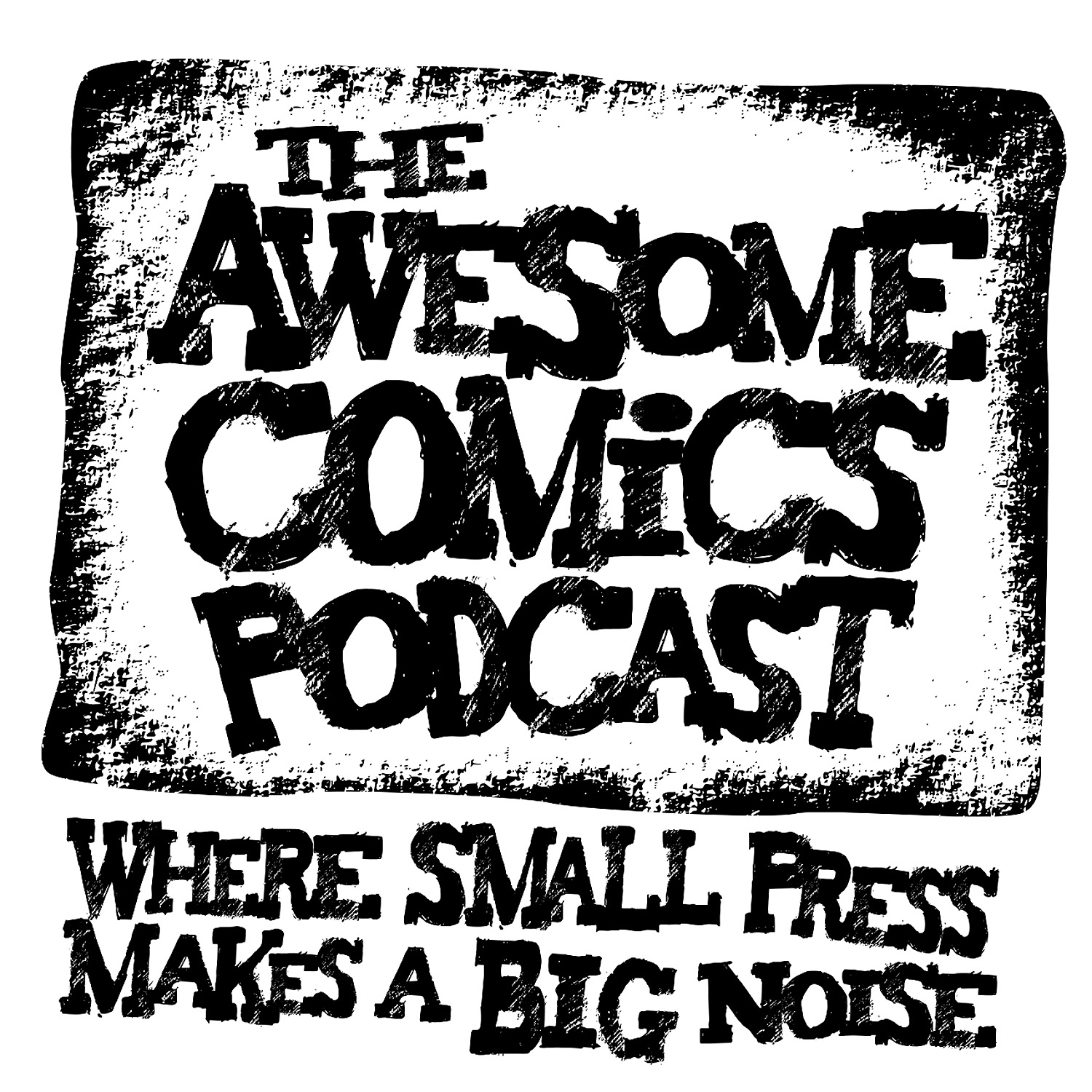 The podcast where the best in the small press comics scene make one hell of a big noise! The Awesome Comics Podcast is a podcast where the best and brightest in the world of small press and independent comic books get their time to shine. You'll find out about books you've never heard of but you will love. Theres great informative interviews with creators, full of helpful tips for any aspiring comic book creator just starting out. Theres also a ridiculous amount of humour running throughout. Listen, laugh and leave us a review to let us know what you think!
Episodes
Monday Nov 09, 2015
Monday Nov 09, 2015
IT'S AN EXTRA SPECIAL BUMPER EPISODE THIS WEEK! 
First up, the ACP crew are joined by mega artist, and one of the creators of the small press veteran that is Lou Scannon, to talk about his art, his influences and the brilliant new project he'll be launching soon that goes by the name 'Druid Investigations'! Theres lots of Thought Bubble and kickstarter talk, everyone takes a moment to appreciate Preacher and thoughts on the upcoming tv show, Supermans sex life gets called into question, Vanguard Dan loses his first name, Vince goes 'thumbs up' crazy and Tony mentions his love of bears and cuddles. T
his episode was almost called Gun, Buns and Thumbs so find out why!
Plus, Vince had a chance to chat to Geek Syndicate's Barry Nugent about his creative project Unseen Shadows. Its an interest chat about a universe that started as a novel and has expanded to a growing comic universe involving some of the best talents in the small press scene!
Its a bumper mega sized episode packed full of comic book chattery, and the perfect soundtrack for you convention travels! Strap in, get a hot cup of caffeine and enjoy the ride!
Mentioned in this episode are: 
Dan Harris
, Druid Investigations, 
Lou Scannon
, 
Barry Nugent
, 
Geek Syndicate
, 
Unseen Shadows
, 
 Revenger: The Shadow Constabulary
, 
Warwick Fraser Coombe
, 
Whatever Happened to the Archetype?
, 
The Grime
, 
The Saga of Metalbeard
, 
Giant Rhinos in Space
, 
Gavin Mitchell
, 
Worry Wart
, 
Moon
, 
The Pride
, 
Stiffs
, 
Mike Carey
, 
Lucifer
, 
The Unwritten
, 
Felix Castor
,
Preacher
, 
The Kill Screen Kickstarter
, 
Thought Bubble 2015
, 
Andy Bloor
, 
Midnight Man
, 
Mark Pearce
, 
Emurian Tales
,
Shaun Dobie
, 
Descending Outlands
, 
Assault on Fortress Doom Kickstarter
, 
The Golden Campaign
, 
Christian Ortiz
, 
James Stayte
, 
Big Jimmy
, 
Improper Books
If you love our Intro/Outro music, then check out the brilliant Chad Fifer and more of his musical badassery 
at 
www.chadfifer.bandcamp.com
Let us know what you think!
Got some small press and self published stuff you want us to check out?